(Not quite the Cockburn Home Page, merely the doorstep)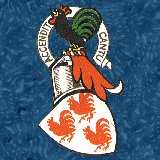 All that is gold does not glitter
Gandalf the Grey
Don't be fooled by the basic and unexciting appearance of this web site. You stand on the threshold of a site packed to the gunwales with succulent words and intriguing concepts. Or maybe not. Judge for yourself.
To be precise, you stand on the threshold of two distinct web sites. Which will you choose?
All you ever wanted to know, and much that you didn't, about the hobbies and habits of Paul Cockburn and his family.
A collection of sketches, monologues and articles for use within church worship.
Choose wisely!*
* Alternative methods of choosing include:
Foolishly
By tossing a coin
Alphabetically
Reverse alphabetically
Recklessly
By clicking your mouse on the screen as randomly as possible until you happen to hit a link
Reasonably
Apathetically
Prayerfully
By following your gut instinct
By seeking professional advice
Instantly
Capriciously
Blindly
Aptly
...
or of course, you could not choose at all but go and do something more interesting instead.