Sue's Calligraphy Page
January 2009 - some recent work
The pictures shown on this page represent the pieces Sue is most pleased with. Here are the descriptions in her own words.
Joy to the world




This is the cover of our family Christmas card for 2007, using the first two lines of a familiar hymn.

Spring




This was my attempt at copperplate, which I have decided is not 'my' script.

Spring Moon
One day people will smile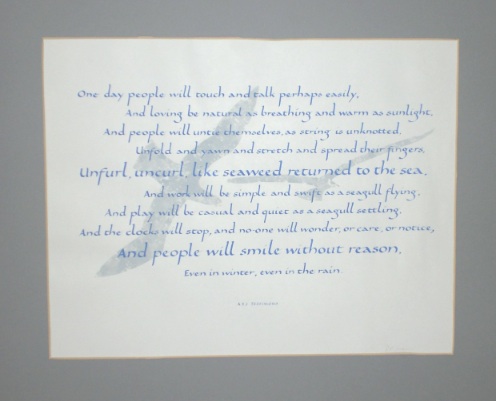 This is a poem by A S J Tessimond, which Paul sometimes uses in services.

In the term we studied carolingian I thought it would make a good piece.

Firelight




This was done with a cola pen. I always find it difficult to write in a free style which is unbounded by guide-lines, but here is one attempt.

Frozen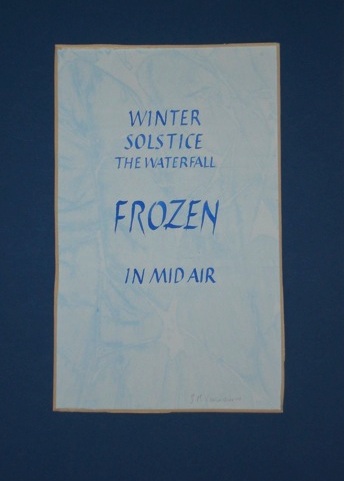 We were practising making backgrounds. This was done with clingfilm and I thought it looked wintry so I found a suitable haiku for the words.

Exeter book of Riddles




The book is made of something called pastepaper, which involves rolling thick flour-paste paint onto paper giving an interesting texture. The whole content of the book is one extended riddle. It is difficult to capture the whole book on one photograph...

... so here is a close up of two pages. They should be enough for you to have a go at solving the riddle. If you really can't work it out, the answer is at the foot of the page.

Batarde Script Sampler
This term we were learning batarde. I really enjoyed creating this sampler.


Answer to the above riddle: A reed.
---